Czar Nicotine Nic Pack Additive/Booster | Czar Nicotine
Shipping:

Calculated at Checkout
Description
Czar Nicotine – Concentrated high VG nic solution made to convert 0mg e-liquid.
Just add Czar Nic to any 0mg eliquid for charted level desired or to add more Nic to reach a higher level
Simple and easy to use.
Create your own nicotine level on the spot.
Made in an FDA certified lab
*Packaging may vary
1. Open the eLiquid container by removing the cap (and/or stopper).

2. Transfer 2.0 ml per tube of the e-juice to another bottle or another temporary container (see matrix below).
3. Open the sealed tube with scissors, and squeeze the content of the tube into the open eLiquid container. We strongly recommend wearing gloves when handling nicotine concentrate!

4. IMMEDIATELY DISCARD EMPTY TUBE. Wash your hands and rinse any device used to open tube with a large amount of water. DO NOT LEAVE THE EMPTY TUBE IN AN AREA THAT CHILDREN OR ANIMALS CAN ACCESS!
5. Replace the cap to the e-juice container and shake the mixture of e-juice/nicotine for at least 30 seconds.
a. If the original e-juice was packaged with a dropper tip and stopper, squeeze the stopper express any of the liquid inside of the glass dropper.
b. Repeat this twice and shake the container for an additional 30 seconds.

6. If there is room in the eLiquid container, transfer the juice from step 4 into the container and shake for 30 seconds. a. Be careful not to overfill the bottle.

7. Wash hands well after adjusting eLiquid or handling the empty tube.
NOTE: Fresh Czar™ nicotine flavor can be enhanced with steeping. An increased "throat hit" will occur when the solution is left to steep at room temperature for 12 to 24 hours. Don't let the Czar™ freshness fool you, the nicotine strength (mg/ml) is immediate upon addition and will not diminish during steeping.

** DO NOT USE IN A VOLUME OF E-LIQUID LESS THAN 15ML **

Contents: 1 x 1ml Nic Pack
NOTE: Matrix below assumes you are adding the Czar Nic tube to a 0mg e-liquid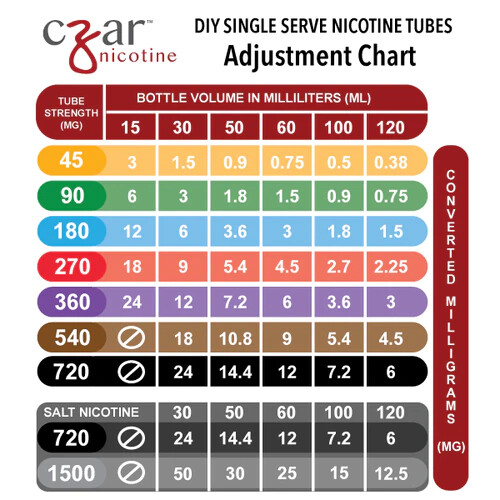 View All
Close